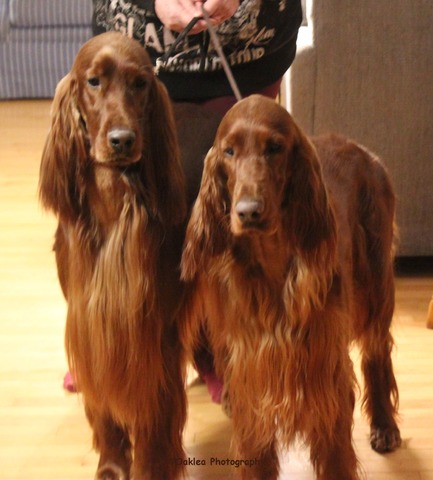 Thank you for your interest in owning a Mythen Irish Setter!
If you would like to own one of our Irish Setters please begin the process by reading our purchase agreement and filling out the questionnaire below.
We always try to find the best possible home and environment for our Irish Setters. Due to various reasons, not all applicants are a good fit and some are not selected.
Please read our purchase contract page before filling out the questionnaire below. Also, please be aware that it may take us some time to get back to you. We are very, very sorry for the delay but we receive so many questionnaires, emails and calls it is just impossible to respond to everyone. We are also on the CKC Puppy List and receive many additional inquiries from there. If we feel we might have a suitable puppy coming up we WILL be in touch, so if you need to update your contact information, please drop us a line! REST ASSURED that we do keep every inquiry in date order and once we have a confirmed pregnancy we will contact people for further information. We prefer our first contacts to be via Questionnaire and email. This gives us something to reference at a later date because there are a lot of names and information to remember!

Many of you are aware that our planned litter for 2020 was cancelled due to the pandemic. Other than geographical logistics and difficulties with travel, etc. for both breeding, picking up or shipping puppies, we just decided that would be unwise to have puppies during a pandemic. It was our opinion that their socialization would likely be inadequate and once people's lives returned to some semblance of "normal" many of the pups may react to being left alone as people returned to work with attachment issues. On top of that, our planned 2021 litter from Whimsy did not work out due to timing difficulties and Mother Nature. Therefore she was bred again in 2022 and had puppies on April 1/22. I may decide to breed her again in 2023.

All that being said, we are definitely planning a breedingwith Gwynnie in fall 2022 or spring of 2023. We have chosen a potential stud dog so keep your fingers crossed. Normally I wouldn't do 2 in one year as we do thoughtful, purposeful breeding only, so our focus is on health and quality, not quantity. This means fewer puppies are usually available. Thank you for your anticipated understanding!
Remember, if you complete the Questionnaire you will usually only hear from us once we feel that a suitable puppy will be available. You are free to email us at any time if you have any further questions.