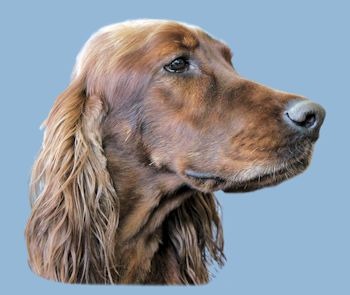 Mythen Irish Setters is located in the centre of the Annapolis Valley in Nova Scotia, Canada. We have 2.5 acres which is set well back from the road with a river on one border, ponds on another and woods/trails on a third. We don't really have kennels. Our dogs live with us in our home. We do have a 30 foot by 80 foot "dog yard" but we only use it when we are outside in the yard and can't focus 100% on the dogs. Most of the time it is just an extra chicken yard. :) When we are introducing puppies to the outdoors we will be using the "dog yard" to keep track of them while they play and explore to ensure they are safe.
My name is Christine and I am a member in good standing with both the Canadian Kennel Club (CKC) and the Irish Setter Club of Canada (ISCC). I have been the Atlantic Regional Director for the ISCC since 2018 and I am a regular contributer to their newsletter, PawPrints. I strongly urge you to take a membership with the ISCC if you have, or plan to have, an Irish Setter. The Newsletter is informative; the members are supportive and knowledgeable. I have a lengthy background with dogs starting at an early age. My Grandmother raised and showed Poodles and Papillons. She also taught Dog Obedience for well over 40 years. I gained my love of dogs from her and often helped her with her dogs and her Obedience classes.
I have worked many years with animals. In my 20's I spent several years working with the Orillia branch of the Ontario Humane Society as a Kennel Attendant and groomer. I worked primarily with the new and quarantined animals (as well as some wildlife.) I travelled with their Mobile Veterinary Clinic in the summer bringing low-cost veterinary care to some of the more remote areas of the near-North. Then I moved from Orillia and I was fortunate to work in a rural mixed veterinary practice in Midland, Ontario for almost 5 years until returning to the Toronto area as a single parent. Once there I worked in 2 small animal clinics and did some limited rescue work. Eventually I took some time off from full-time employment to enroll in College and my career took on a different focus in order to best support my two children. I became more involved in rescue work as a foster home for difficult to place dogs in 2004/5 and one of my dogs was accepted as a St. John's Ambulance Therapy Dog. Sadly, I lost her to kidney failure in fall of 2005.
Throughout my life I have had many dogs but it took me a long time to find my true love - Irish Setters. We also presently have a Golden Retriever as well as an Irish Setter mix. They are both spayed females. I also confess that I have been owned by Silky Terriers, a Yorkshire Terrier, a Lab/Husky mix and an awesome Bernese Mountain Dog. However, most of my dogs have been Sporting Dogs - 10 German Shorthaired Pointers, a Chocolate Labrador Retriever and now my present dogs. The sporting breeds just tend to fit my lifestyle and personality well. I have especially loved Irish Setters but I just never saw any around. I finally decided I needed to change that. I spent 3 or 4 years researching the breed and different breeders and that eventually led me to Pam and Larry Legault of Palarset Kennels in BC. Thankfully I have been blessed with two of their lovely girls from different sires/dams.
Palarset's Winter Whimsy (Whimsy) my first Irish gal, was born in December 2016 and Palarset MemorableGwendolynBee (Gwynnie) my second Irish gal, was born in April 2017. Having the two girls so close in age has been interesting, to say the least, and it has kept me on my toes. I began Conformation showing for the first time in 2017. I am shy so it has been difficult for me, but our girls are truly awesome and have made things much easier. Regardless, it has also been a real learning experience and they are doing well despite us. Both girls have participated in 3 sets of Scent Detection training classes with Front N'Scenter Canine Enterprises. Whimsy has participated in 2 Field Dog Training Days and Gwynnie in one. Whimsy also has participated in two Sprinter Events (Gwynnie wasn't eligible as she was in season, but she did have a "fun run" and was very fast!)
Be sure to check out our other pages. I'm still working on the site, but you will find information and photos of our girls, the latest show news, contact information and more. If you email us and don't hear back from us, please check your spam folder in case our emails go there. I will also respond to phone calls but you will have to leave a detailed message and your phone number. We look forward to hearing from you!